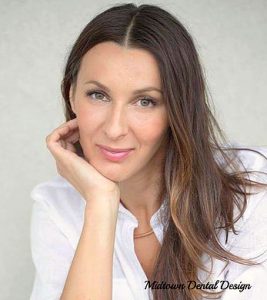 Dr. Mirjana Sadeghi received her Doctor of Dental Surgery (DDS) degree from New York University College of Dentistry in 2003.
Dr. Sadeghi completed her two-year general residency program at Bronx-Lebanon Hospital. In her second year, she served as a chief resident, focusing her attention on advanced general dentistry procedures and oral surgery. She was invited back to Bronx-Lebanon Hospital as a speaker and has been recognized with an award for contributing to an educational experience of the residence program.
In the fall of 2006, Dr. Sadeghi went back to New York University College of Dentistry and completed the advanced level of aesthetic dentistry at the Rosenthal Institute. She spent a year studying and focusing on the art and science behind smile design, veneers, implants, cosmetic bonding and whitening, as well as treatment planning and complete oral rehabilitation cases to integrate not only the aesthetics of a smile but also a functional, harmonious occlusion.
In 2007, she was appointed as a member of a faculty at New York University College of Dentistry in the post-graduate aesthetics program in the Department of Cariology and Comprehensive Care.
Dr. Sadeghi maintains a membership in the American Dental Association®, the New York State Dental Association and the American Academy of Cosmetic Dentistry.
In her free time, she enjoys traveling, running and spending time with her family and her two children, Mila and Maksim.